How to set up the client side of the remote radio system.
(under construction) patches have not been uploaded to github
This client works with the sever described in the previous post. We are running a MacBook Pro OSx 10.11.4. with the following:
logmein hamachi VPN
Soundjack VOIP
Max/MSP
Novation launchpad
DJ-Tech CDJ-101 controller
VPN
Install and set up LogMein Hamachi. It is free, for a limited number of computers.  Set up a Hamachi server on both the server and client. It should look something like this:
VOIP
We are using Soundjack VOIP. It is also free. Use the following parameters on the client side.
mic: soundflower 2ch (or something that is not currently producing input!)
headphone: default output (or whatever you want to listen on)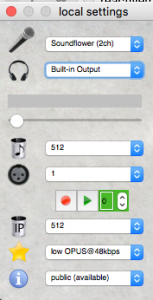 You can ignore the rest of the settings, since we are not sending audio. Most of the configuration is done on the server side.
Max
We are using several patches, depending on which hardware controllers you are using. Make sure that the hardware controllers are connected before opening Max.
patches:
eagle-ui5.maxpat – User interface and main entry point for client communication and CDJ-101 abstrations

freqdb4.maxpat – database handler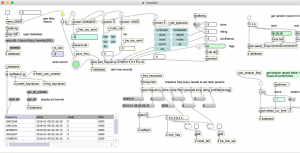 lp_radio2.maxpat – launchpad driver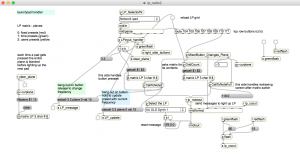 After the max patches are loaded, you should be able to control the radio using the UI and the CDJ-101 controller. The red Mixer button in the upper right corner of the Launchpad should be lit.
Instructions:
to be continued…