Here's a basic pattern:
Send search string to Twitter
Get JSON result
Parse result and do something with it.
From Max, there are many ways to do this:
searchtweet – mxj, twitter4j
by Gokce Kinayoglu
http://cycling74.com/toolbox/searchtweet-design-patches-that-respond-to-twitter-posts/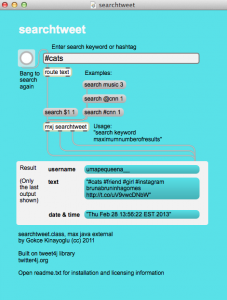 This patch demonstrates the Twitter search API. Its self contained within Max – using the [mxj search tweet] external. This object allows you to input
 keyword
maximum number of results
The response is:
username
Tweet text
date/time
This patch is a great way to get Tweets into Max. You can use a [metro] object to poll the API. There are no additional programs running outside of Max. 
The limitation is lack of flexibility. You don't have access to any of the other parameters in the request response. For example, geographic data. Also, it can be difficult to install and maintain java [mxj] programs in Max.
Here's a screenshot of a patch which takes the output of the above patch and sends it to the aka.speech object – which runs the Mac Os built in text-to-speech program