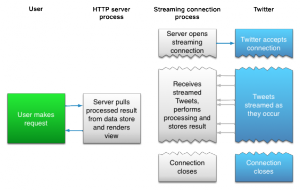 overview
A series of projects that use Internet API's for interactive media projects.
Projects have been tested on Mac OS 10.9 (Mavericks). All but one of the projects use Max/MSP 6.1.7 from: http://cycling74.com. The other project uses Pure Data 0.42.5 (extended) from: http://puredata.info. Other required programs are listed in the documentation for individual projects.
download
internet-sensors is on Github at:  https://github.com/tkzic/internet-sensors
Each project is in a separate folder.
authorization
Some projects require passwords and API-keys from providers.
For example, for the 'Twitter streaming API in Max' project you'll need to set up a Twitter application from your account to get authorization credentials.
For projects that need authorization usually you'll just need to modify the patches/source code with your user information – as directed in the instructions.
help
The API's used in the projects change fairly often. So there's no guarantee they'll work. If you find problems or have ideas – please post to them to the github repository. Or email me at tkzic@megalink.net.
projects
1. Twitter streaming API in Max (FM, php, curl, geocoding, [aka.speech], Soundflower (optional), Morse code, OSC, data recorder, Twitter v1.1 API, Twitter Apps, Oauth)
http://reactivemusic.net/?p=5786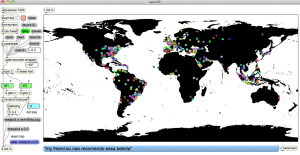 2. Sending tweets from Max using curl ([sprintf], [aka.shell], xively.com API, zapier.com API, JSON, javascript Twitter v1.1 API, Oauth)
http://reactivemusic.net/?p=5447
3. Send and receive tweets in Max using ruby (ruby, API, JSON, javascript Twitter v1.1 API, OSC, Oauth)
New! – use the project above to send tweets from using a Fisher Price "Little Tikes" piano: http://reactivemusic.net/?p=6993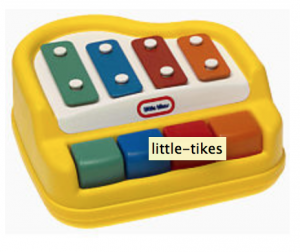 4. Speech to text in Max (Google speech API, JSON, javascript, sox, Twitter v1.1 API, Oauth)
Note: Send Tweets using speech as well.
http://reactivemusic.net/?p=4690

5. A conversation with a robot in Max (Google speech API, sox, JSON,  pandorabots API, python, [aka.speech]
http://reactivemusic.net/?p=9834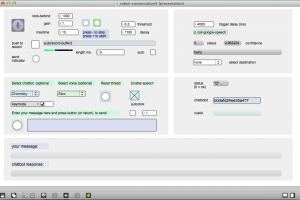 7. Playing bird calls in Max (xeno-canto API, [jit.uldl], [jit.qt.movie])
http://reactivemusic.net/?p=4225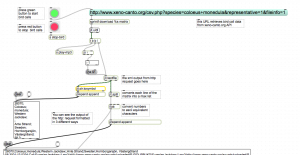 8. Soundcloud API in Max (JSON, javascript, curl, [aka.shell], [jit.qt.movie])
http://reactivemusic.net/?p=5413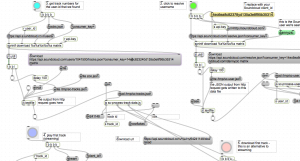 9. Real time train map using Max and node.js (XML, JSON, OSC, data recorder, web sockets, Irish Rail API)
http://reactivemusic.net/?p=5477
10. stock market music in Max (OSC, netcat,  php, mysql, html, javascript, Yahoo API, linux)
http://reactivemusic.net/?p=12029

11. Using weather forecast data to drive weather sounds in Pure Data (ruby, OSC, JSON, openweathermap API, "Designing Sound" by Andy Farnell)
http://reactivemusic.net/?p=5846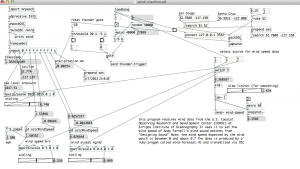 12. Using ping times to control oscilators in Max (Mashape ping-uin API, ruby, OSC, JSON)
http://reactivemusic.net/?p=5945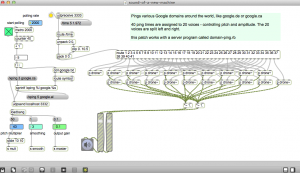 13. Echonest Segment analysis player – sonification of audio analysis data from The Echo Nest (echonest API, ruby, Osc, Max/MSP)
http://reactivemusic.net/?p=6296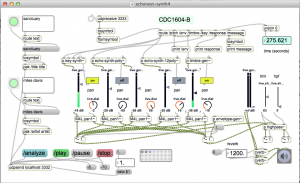 14. Quadcopter AR_drone – Fly a quadcopter using Max – with streaming Web video. ( node.js, AR_drone, Google Chrome, Osc, Max/MSP)
http://reactivemusic.net/?p=6635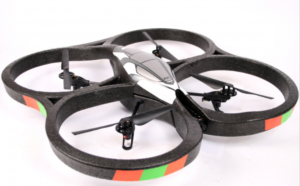 15. Adding markers to Google Maps in Max – ( node.js, ruby, Google Chrome, Osc, Max/MSP, websockets, Google Maps API, Jquery, javascript)
http://reactivemusic.net/?p=11412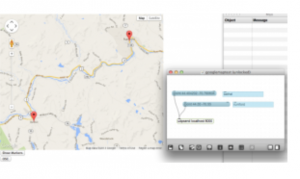 16. Max data recorder –  Record and play back streams of data simultaneously at various rates
http://reactivemusic.net/?p=8053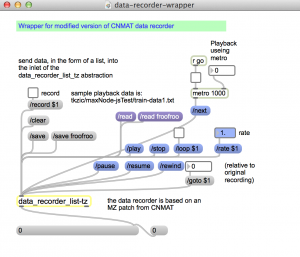 17. Web Audio version of Google domain ping machine –  The sound of an even newer machine using Web Audio API, web sockets. Max, Ruby, Osc, Google API, and Mashape
Note: This project is not in internet-sensors. You will find it on github in the tkzic/WebAudio project: https://github.com/tkzic/WebAudio
Instructions: http://reactivemusic.net/?p=6243
16. MBTA bus data in Max –  Sonification of Mass Ave buses, from Harvard to Dudley
http://reactivemusic.net/?p=17524