Current local version is in tkzic/van project/van47g key9d.als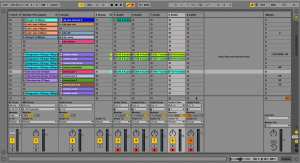 changes
Using Korg nanoKontrol instead of foot pedals (actually either will work) – see map below
Now works with any audio interface
Mic input for channel 9 is fed to output to use as direct live monitor
Essentially it now works with a minimal amount of external hardware.
midiStroke
Backed up the midiStroke config file in its current state. The file is located at: /Users/tkzic/Library/Application Support/midiStroke/midiStroke.cdcmidistroke. Backups will be kept in the same folder.
nanoKontrol map
Scene 1
Top row of buttons
up
down
left
right
stop all clips
delete
finish recording and arm track to the right (enter/right/enter)
record start/stop (enter)
launch scene in current row and move cursor to track 5
bottom row of buttons
dials
Correspond to track levels 1-9
faders
Master level
unassigned…
what's next
Make a lightweight template version (without all of Van's music) – that can be used for new projects
set up with Launchpad to do fx processing
Midi version – or midi tracks?